MFA Thesis
Photo by: Rick Danzl/The News-Gazette
Photo by: Rick Danzl/The News-Gazette
Master of Fine Arts Thesis
Promoting Wellness and Reducing Stigma Through Accessible Sexual Education: A Human-Centered Design Approach
Completion: December 2018 (view pdf)
Thesis Committee Chair: Dr. Deana McDonagh
Professor of Industrial Design at the University of Illinois and faculty at the Beckman Institute of Advanced Science and Technology. She is an Empathic Design Research Strategist who focuses on enhancing quality of life for all through more intuitive and meaningful products, leading to emotional sustainability.
ABSTRACT
This project explores ways to promote wellness and knowledge and reduce the stigma surrounding sexuality and sexually transmitted diseases (STDs) by using a mobile platform to create accessible sexual education. According to the Centers for Disease Control and Prevention, young people ages 15 to 24 in the United States are disproportionately affected by STDs. Though they only comprise one-quarter of the sexually active population, teens and young adults account for one-half of all new STDs each year in the United States. Additionally, over half of adults aged 18 to 44 have never been tested for an STD other than HIV/AIDS. Gaps in STD-related knowledge, barriers to health care, and social stigma are major contributors to these discrepancies.
This paper describes the research and design progression for the SexEd app, a mobile-optimized website that presents sexual health information in a way that is both comprehensive and accessible for teens and young adults. The research phase of this project presented new discoveries and problems, which generated new opportunities to create a meaningful and delightful solution for the user. Intentional design was used to craft an experience that is authentic and meaningful; each feature and aspect of the visual design within the app were shaped with the target user in mind, from the typography and the copy to the imagery and the illustration styling. Although this thesis project began as an exploration of sexual health knowledge among young people, it evolved into a digital experience that could be used to both combat STD-related stigma and expand sexual health knowledge.
The goal of the SexEd app is to promote healthy sexual relationships and wellness while reducing STD-related stigma.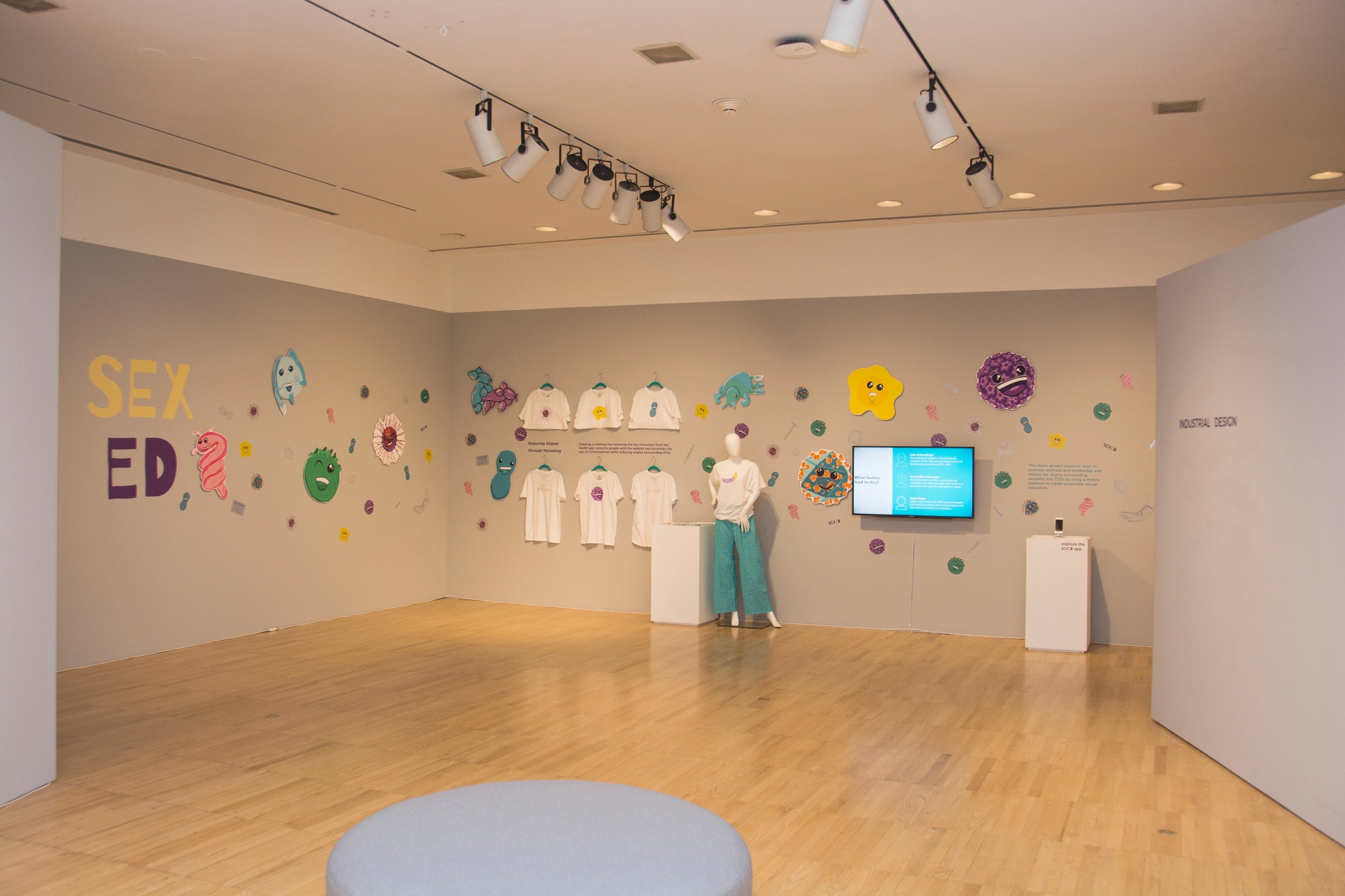 2018 Master of Fine Arts Exhibition
Krannert Art Museum, East Gallery
Personas and Journey Maps + initial Ideation + UI
Header Photo by: Rick Danzl/The News-Gazette © All rights reserved.